EDIT MAIN
Welcome to the Schoolcraft Community Schools Teaching and Learning Page
Quick Facts:
1. Schoolcraft Community Schools was ranked the #1 Middle AND High School in Kalamazoo County per the 2018 Michigan Department of Education School Index Ranking.
2. Beginning in the Fall of 2018 all Math and ELA classes are standards-based in teaching, learning and assessment methods (with Science and Social Studies soon to follow). Each class has approximately 10 standards which need to be met. Achievement is leveled and is assessed/gauged via a proficiency scale for each standard.
3. Schoolcraft Community Schools was awarded a substantial pilot grant from the Michigan Department of Education to explore Competency-Based Education models beginning in the Fall of 2018.
4. Schoolcraft is making a shift from what some consider "traditional grading" to a more just and prudent form of grading as seen below: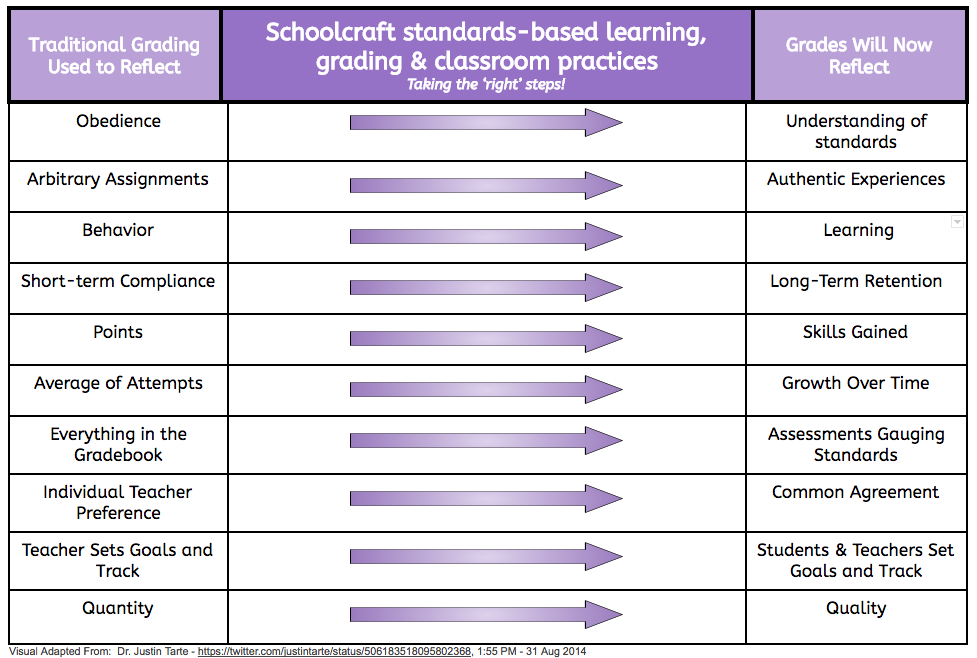 We believe all students can learn the higher order thinking skills needed to be successful in the 21st Century.
Purpose of Grades
Grades should communicate the level of student mastery of skills and provide feedback to stakeholders as follows:
to teachers to adjust instruction,
to students to inform, motivate and goal set for future learning,
to parents for accountability, clarity, and understanding of student strengths and weaknesses
Want to read more? CLICK HERE for the complete roadmap!
Would you like to learn more about how Schoolcraft students are learning via relationships and projects with our community?