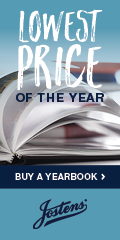 Order 2018/19 Yearbooks Now!
Matt McCullough
Friday, October 19, 2018
Today is the last day to get your lowest price of the year for the 2018/19 Schoolcraft Yearbook!
(http://jostensyearbooks.com?REF=A03899800)
Do you have pictures you HAVE to see in your yearbook this year? Register for a Replayit account (https://www.replayit.com/#/home) on your computer or download the app for your phone and you can be a contributor to your 2018/19 yearbook along with the staff!