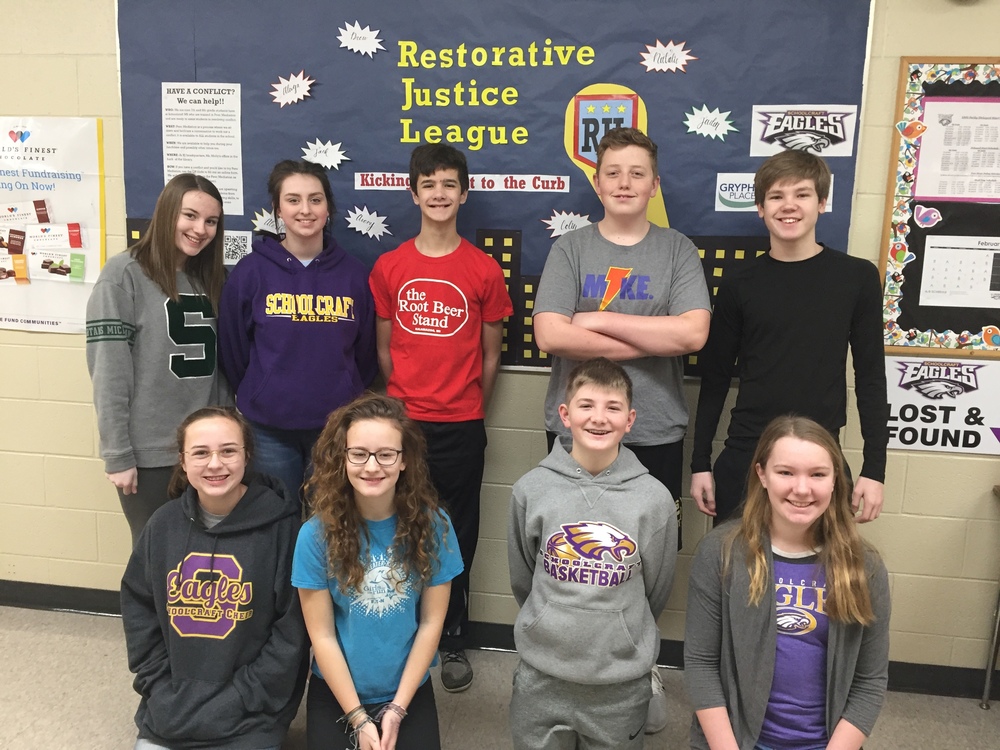 SMS Restorative Justice League jumps into action!
Dave Powers
Monday, February 25, 2019
Have no fear, the Restorative Justice League is here! Schoolcraft Middle School is excited to announce a new student group: The Restorative Justice League. The RJ League is part of the Restorative Practices that have been introduced at the school this year.
Nine students, five in 8th grade and four in 7th grade, were trained as peer mediators in December. They learned conflict resolution skills-- including how to be good listeners, how to help others reflect on what happened, and how to remain neutral when helping others resolve a conflict. They learned the peer mediation process and role played several scenarios. They are now fully trained and ready to facilitate conversations, or "mediations," between students who are having minor conflicts.
Peer Mediation is a valuable tool to have in our Restorative Practices toolbox. We are training students to have a deeper understanding of conflict and teaching them important social and emotional skills to help resolve conflict in a peaceful, productive way. We are creating student leaders. And, perhaps most importantly, we are recognizing that each student at this school has a voice. Sometimes a problem or conflict might not seem like a big deal to teachers and adults, but it can be a big deal to kids. With peer mediation, there is now a process in place to address these "minor" conflicts. All students have access to a QR code that leads them directly to an online form to put in a request. Their conflict is then dealt with in a confidential and timely manner.
I am excited to be part of a school that is taking conflict resolution and positive communication seriously. These are skills that kids need in school and beyond. I am also thoroughly enjoying this amazing group of 7th and 8th grade students who were recommended by their teachers to be peer mediators. They are: Jack VanDam, Alexis Candler, Drew Webb, Avery Parlin, Alivya Mandigo, Colin Hotrum, Jaden Vanderwiere, Lylliana Keeler and Natalie Glerum.
The RJ League intends to do more than just peer mediation. We have plans to start some lunchroom discussions on school culture, asking questions like, "What helps you to feel welcome here at school?" and "What motivates and inspires you at school?" We also hope to do some bullying education and promote a culture that encourages "upstanders" rather than "bystanders." The RJ League is starting small with big ideas, and I hope that it will continue to develop and grow into a valuable presence here at Schoolcraft Middle School.