Schoolcraft Middle School builds a sense of community and belonging through "SMS Squad" activities!
Matt McCullough
Friday, June 29, 2018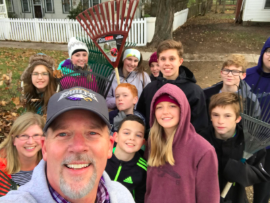 Everyone knows that the adolescent years are particularly challenging ones as students move from adult dependent children to becoming more independent young adults. Navigating this time of self discovery and identity is much easier in middle school if there is a sense of "belonging", trust, and security.
At SMS, we strive to do just that through our "SMS Squad" activities. Beginning in June of each year, we welcome our incoming 5th graders during "Squad Day!" in the stadium with some getting to know you activities, fun relays, and games. During the school year we also gain a sense of community by serving others together with activities like the "Rake and Run", senior citizen caroling, and food drives. Overall, the goal of growing a true presence of KINDNESS and COMPASSION at Schoolcraft Middle School is the objective! We are confident that our SMS Squads help support this reality!